The 2006 edition of Becoming a Webhead included, for the very first time, a live webcast presentation at WorldBridges. Dafne, Teresa, Hala and Leanne welcomed over 50 participants from BaW and other EVO sessions to hear firsthand from Jeff LeBow and Dave Cormier, the site's founders.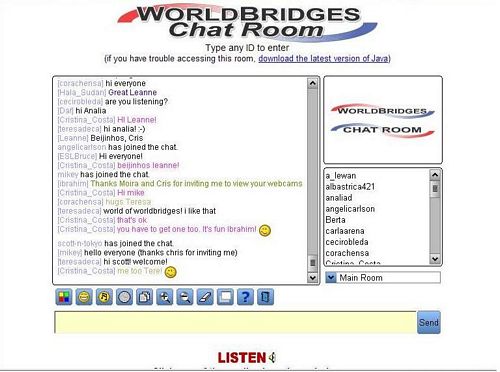 The Q&A format brought several participants into the Skype conference, to comment on the topic, ask questions, relay their experience or, as Teresa says, "put in their two euro cents". Meanwhile, the very-active chatroom took on a life of its own – with participants asking questions and getting them answered by other participants. Eventually, an overview of what a webcast entails and how it might be used in ESL teaching was covered. But, as is often the case, answers often led to more questions…leaving participants with some food for thought.
In true WebHead spirit, some participants were also multitasking in YM, getting in more practice with their webcams. Ibrahim Rustamov captured Cris Costa, Randa Effat, Moira Hunter and Amanda Fava-Verde with this screenshot.
For those of you who missed the presentation, by definition, a webcast becomes a podcast when it is recorded for later listening…so you can enjoy it at your leisure at
http://worldbridges.com/livewire/2006/01/30/baw2006/  
and be sure to add your comments below.
A big WebHead thank you to Jeff and Dave for providing this taste of webcasting, and for recording the proceedings for posterity. Congratulations to BaWers who braved the unknown to "skype in" to the conference, sometimes after several attempts. Thank you also to Teresa d'Eca and Ibrahim Rustamov for their screenshots.
We welcome your comments on this presentation and the venues, Worldbridges and Skype, as well as your suggestions for how webcasts or podcasts could work into your teaching context.
Yours,
Leanne